Creative Woolcraft Workshops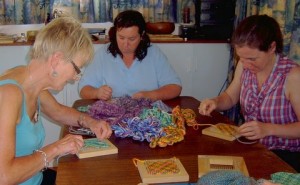 Creative Woolcraft Workshops are an opportunity for you to try your hand at creative fibrecraft, including dyeing, spinning, weaving and felting. Four half-day workshops are scheduled each weekend of the programme. These small group workshops are friendly, supportive, and facilitated by tutors with extensive fibrecraft and teaching experience. You can pick and chose which workshops you want to take, and are rewarded with a discount for attending multiple workshops.
Workshops take place at Fleecewood Farm, where you can meet the sheep, and follow the journey from sheep's back to finished product. The Summer weekend workshops programme for 2023 runs every weekend from January to March,  and prior booking is essential. Please email to request special workshops or mentoring.
This year we are not scheduling regular workshops over Winter, but please contact us if you'd like a workshop outside of the scheduled times.
One-to-one mentoring, other topics, and more advanced classes are designed around participants' specific interests, and are scheduled to suit. If you don't see what you'd like to learn, experience or experiment with, please let us know.
Booking a Workshop
Please use the booking form to book your place in a scheduled workshop. We will contact you back to confirm availability and send an invoice. The booking will be confirmed once full payment is received. Payment options include internet banking, Paypal or other methods by negotiation. Bookings can also be made by phone or email. Please speak clearly and repeat your phone number if you need to leave a message.
Rainbow Dying
Start with lustrous locks of English Leicester fleece, just as it was shorn from the sheep. Follow the journey from sheep to gorgeous curly locks of wool dyed a rainbow of glowing colours.
Arrange the dyed locks in a display box to admire your handiwork, or chose to use the dyed locks in another workshop, and spin them into yarn, incorporate into weaving or use them to embellish felt.
Saturdays 10:00am to 1:00pm
Cost: NZ $90 per person  Booking Form
Fee includes all supplies and equipment needed, as well as morning tea.
Making Felt Balls
Using pure New Zealand wool, soap and water, experience the ancient art of felt-making to create solid felt balls. Create soft or hard felt balls that make great children's toys, stress and juggling balls, paperweights and pin cushions, ornaments, decorations, and more.
Create your own unique designs for each ball using felting needles to attach coloured fleece and yarn. Balls can be strung together to make more detailed toys, or hung to create a mobile.
Saturdays 2:00pm – 5:00pm
Cost: NZ $90 per person   Booking Form
The fee covers all supplies and equipment needed, as well as afternoon tea.
Spinning Yarns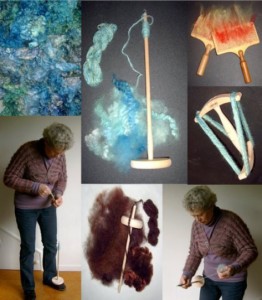 Follow the story from sheep's back to your own spun yarn.
Meet the sheep. Experience the feel of "raw" wool. Then create a yarn using just your fingers. Progress to spinning a single thread using a simple spindle, then ply the thread to give a yarn with strength and balance. If you master this, try your hand at using one of several spinning wheels. (If you can already use a spinning wheel, there is the opportunity to experiment with more advanced techniques).
You'll also prepare wool for spinning, make a skein from the yarn you've spun, and set the twist so your yarn is balanced and easy to use.
The next Spinning Yarns workshop is scheduled for Sunday, 27 November 2022. There are a couple of places still left.
Sundays 10:00am – 1:00pm
Cost: NZ $90 per person   Booking Form
Back to top

Dream Weaving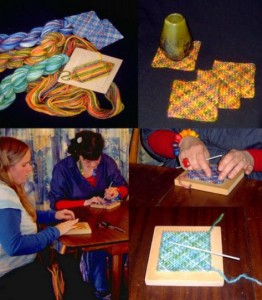 Start with funky, hand-dyed yarn and a simple diagonal weaving board.
Using a single continuous yarn, create several coaster-sized mats displaying a stunning mesh of colour.
You'll also learn how to quickly join squares together to create larger pieces of fabric suitable for making bags, hats, cushions and rugs.
Take away your own unique, New Zealand souvenir, or use as gifts.
This simple weaving technique is ideal for travelling. The equipment fits into the palm of your hand, and the weaving can be picked up or put down at any stage of the work.
Sundays 2:00pm – 5:00pm
Cost: NZ $90 per person  Booking Form
Other workshops
Many other workshops and mentoring opportunities are offered depending on demand, including
– More Advanced techniques and projects
– Knitting, rug making and felt sculpture
– Workshops for children
– Creative team building opportunities
Upcoming Special Workshops
There are no workshops scheduled until after Christmas, but if you'd like one let me know and I'll see if I can find a couple of other people to make it work, or ask to go on the waiting list. Please contact us for further information and booking.